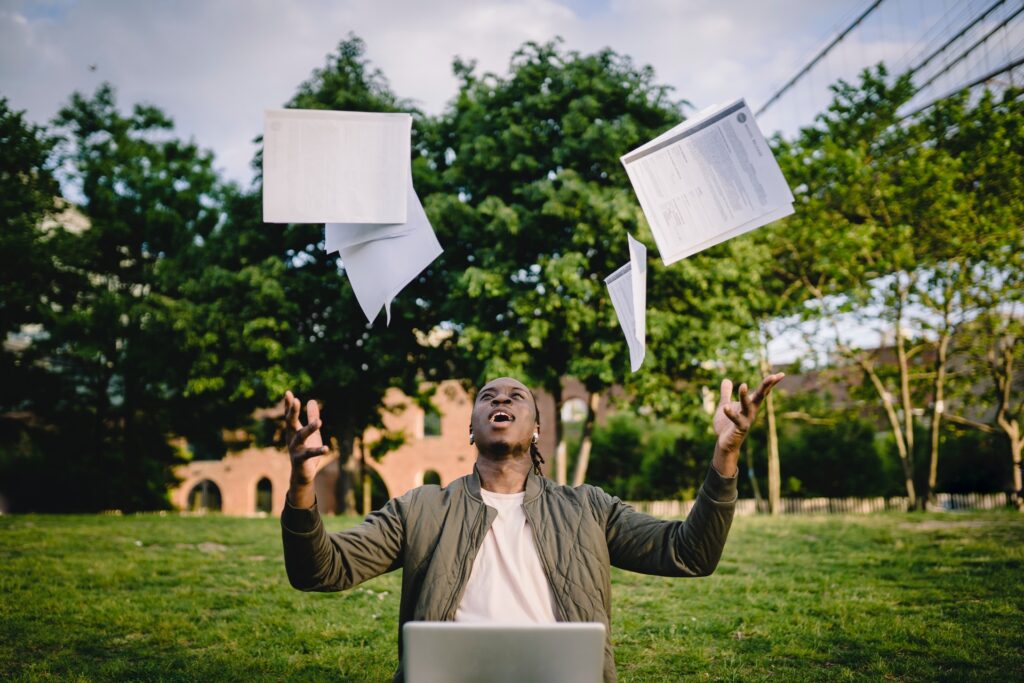 Expanded Course 1 Study Guide!
Our Humber Course 1 Study Guide has been revamped with more than 650 multiple choice questions (a whopping 40% increase over last year's version). We've also refined our existing database of MCQs, Rapid Recalls and TERMinator quizzes with the latest course revisions. You'll have oodles of options to test your knowledge of course content and prepare for your exam with confidence. Don't forget… the most recent version of Study Buddy's interactive online notes is also there to help. Study Buddy is packed with up-to-date, easy-to-read condensed overviews, prioritized topic explanations and study tips. Use these amazing features when studying or just scanning for mind joggers and crucial details before your exam. It's the perfect accelerated learning sidekick to complement your Passit Guide purchase.
What is Included in the Passit Course 1 Study Guide?

Everything you need to tackle your exam with confidence! The best part? It's accurate, up-to-date and all in one place. Here's your sneak peek of the features packed into Passit for Humber Course 1. Click any image below for a full-screen view.
1. Adaptive Personalized App
This guide, custom-designed from the ground up, is tailored specifically to Humber Course 1: Real Estate Essentials. The Main Menu gives you quick, easy access to all of the guide's features. Our complex engine powers the best online study tool available, including personalized and correctly-weighted question sets, smart-saved progress history, responsive question layouts and continuous results tracking. You get professionally developed study materials to help you prepare for any question on exam day. Access Passit from any current web browser on any device (Chrome, Safari, Edge, Firefox or Internet Explorer 11).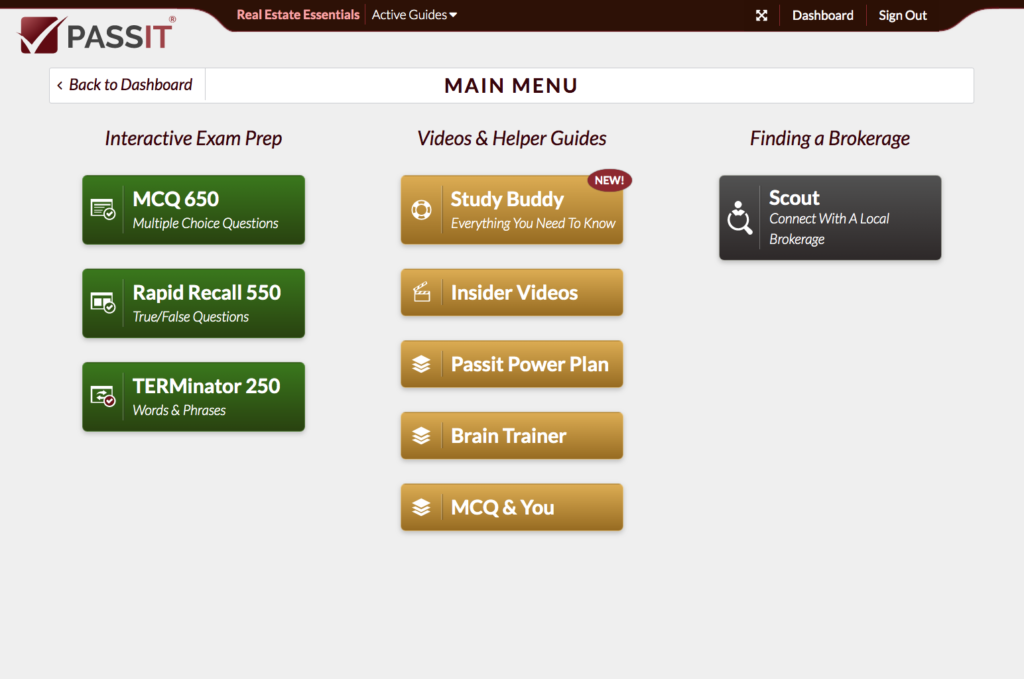 2. Study Buddy
This is our newest high demand feature! Trust pro-level, accurate, interactive notes covering the entire course. These:
Visually display condensed notes to reduce study time. Accelerate your studies.
Highlight key points for focused review and recall. Just the facts, no fluffy stuff!
Prioritize course content by degree of importance (green, yellow and red). Know what you need to know!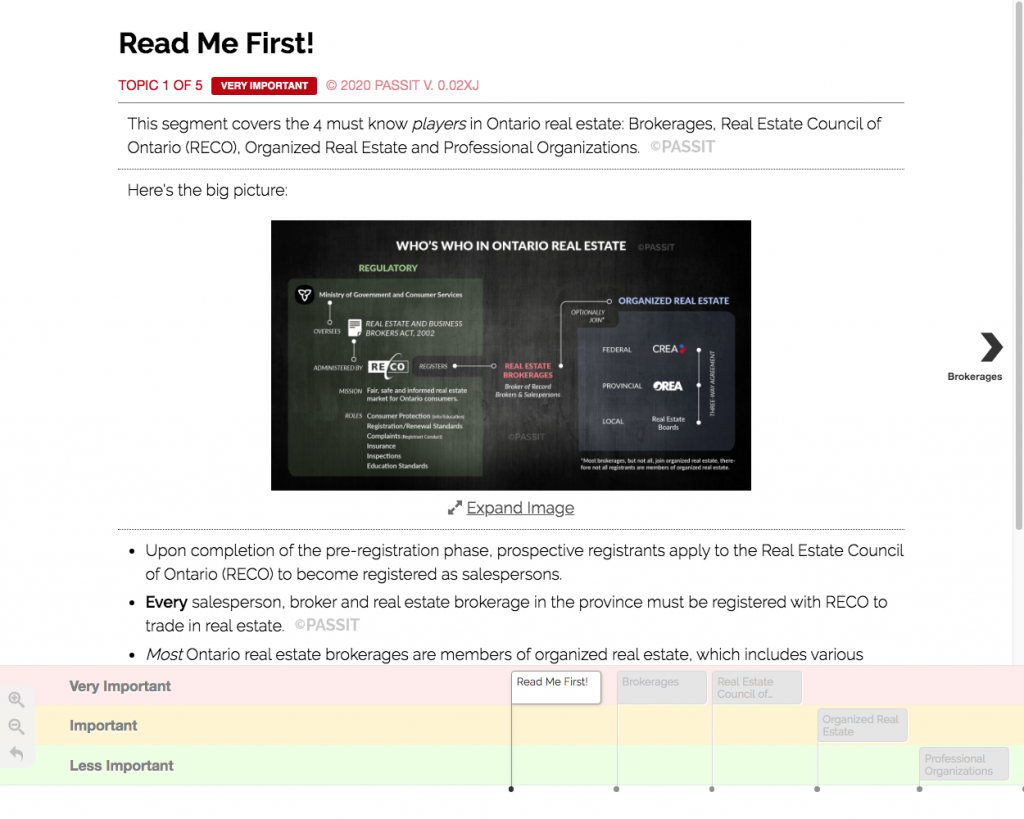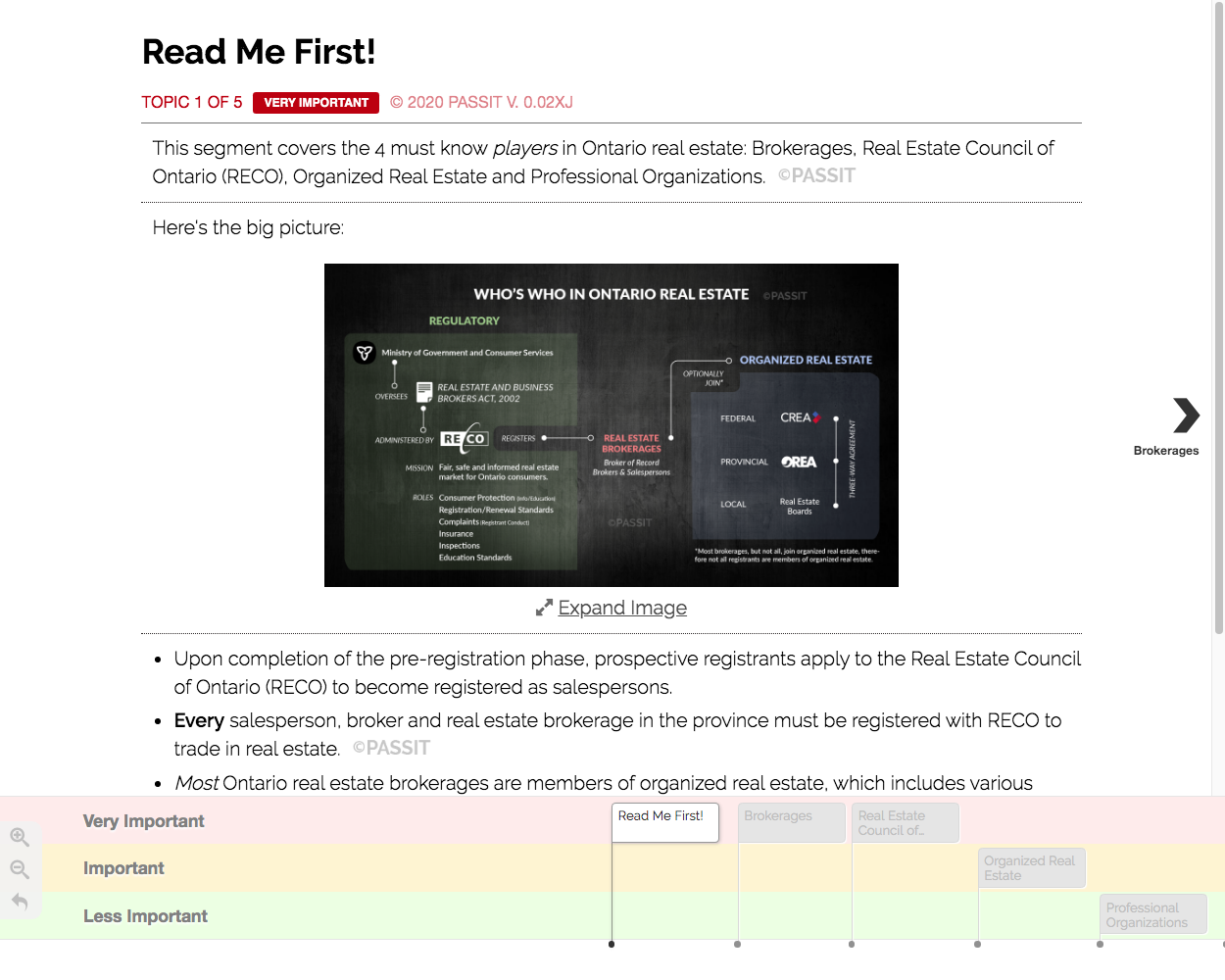 3. 650+ Multiple Choice Questions (MCQs)
Each multiple choice question includes detailed explanations for all four answer options. Our MCQs range from testing basic knowledge to complex scenarios. You'll know why the correct answer was right and the incorrect answers were wrong. Topic Tips and Solution Details are included, where appropriate, to ensure your full understanding. A handy location tag is located at the bottom of each question telling you exactly where to find the topic in your Humber course materials.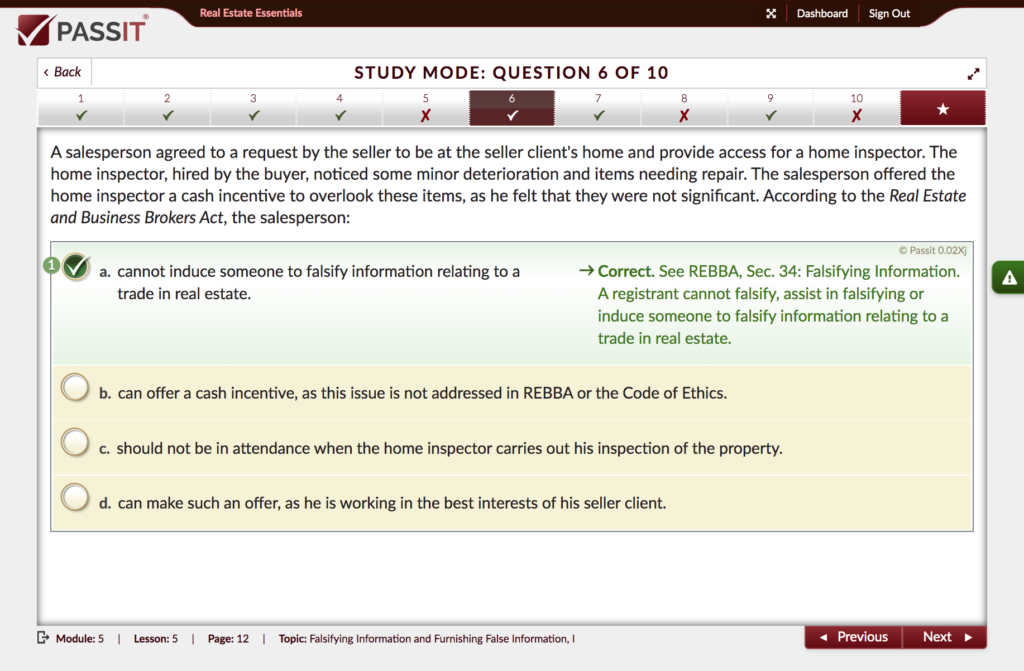 4. 550+ Rapid Recalls
Power up your studying with flash-card style, true/false questions for rapid recall on the go. Flash cards help you learn faster because they promote active recall. It's one of the ways that our brains learn most effectively. Get a better grip on course materials by studying online anytime, anywhere. To keep things lively, Passit also tracks the number of questions you've answered correctly in a row, which is saved as your current streak. Each question includes a full answer explanation and a handy location tag, which tells you exactly where to find the topic in your Humber course materials.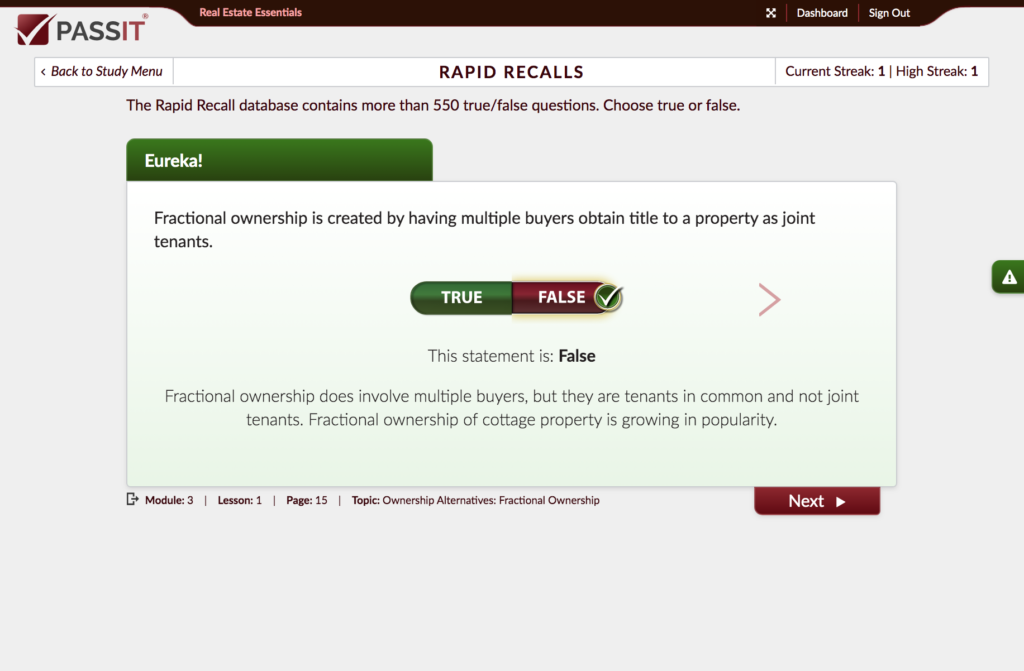 5. TERMinator Puzzles
Perfect for a fun study break or an MCQ warm-up, this challenges your knowledge of over 250 key course terms and phrases in a fun and engaging way. For each card, you'll drag and drop the appropriate term to earn points. There's a TERMinator puzzle for each module, and several overall puzzles so you can tackle terms from the entire Humber course. TERMinator is a fun way to consolidate your knowledge of key terms and concepts.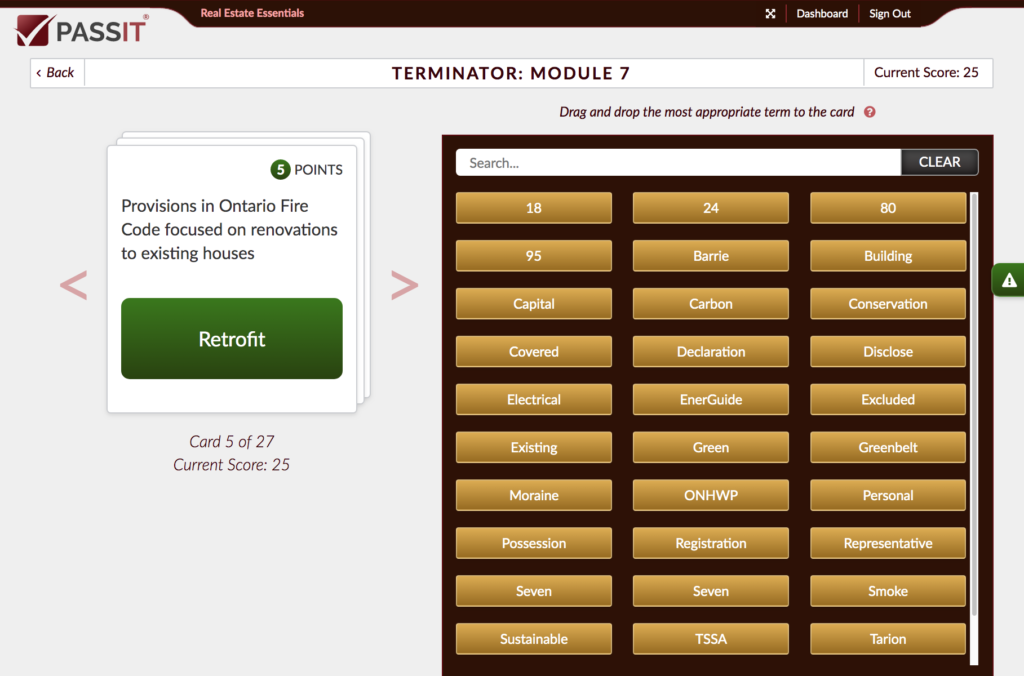 6. Course Location Tags
Each Passit question includes the specific location of the topic in your Humber course materials. This makes studying and review so much easier. At the end of a set of practice questions you see your results, along with the Topic Review List. This is the list of the topics you need to review in the course, identified by module, lesson and page number. You know exactly where you went wrong, and where to find each topic in your Humber course for a quick review. It's a powerful add-on that makes your study time more productive and focused.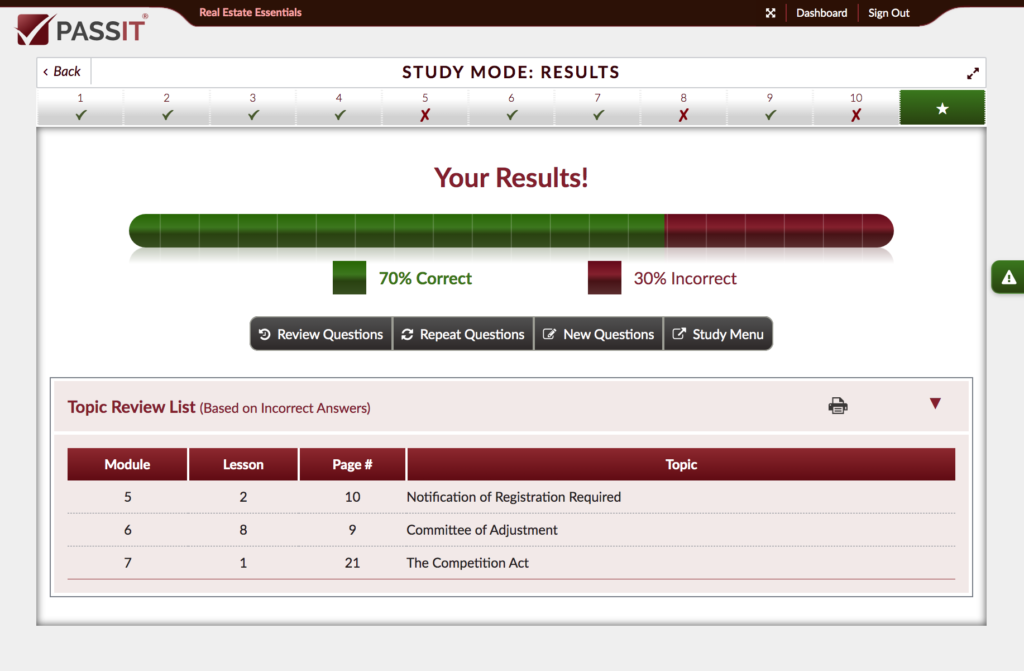 7. Insider Videos
Stuck on a tough topic? Not sure you understood the course materials? Passit has short, punchy explainer videos to help you quickly grasp complex concepts. These micro-learning experiences help organize, explain and simplify tricky, involved concepts. Bite-size visuals are an engaging way to optimize your studying. They're practical and save time, while delivering clear, easy-to-follow messages.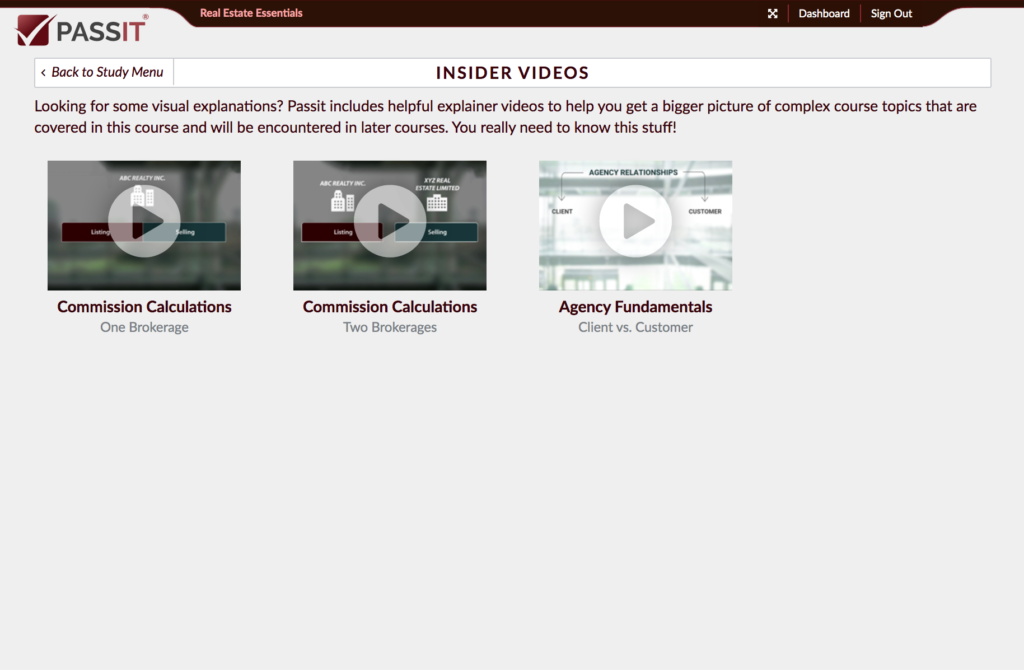 8. Personal Dashboard & Progress Tracking
The Passit dashboard tracks your personal progress to help keep you focused and motivated. It's easy to get lost in a sea of questions. The dashboard tracks your results so you can watch your progress improve with each study session. The Passit engine remembers your question history, so subsequent study sessions are customized based on your personal track record.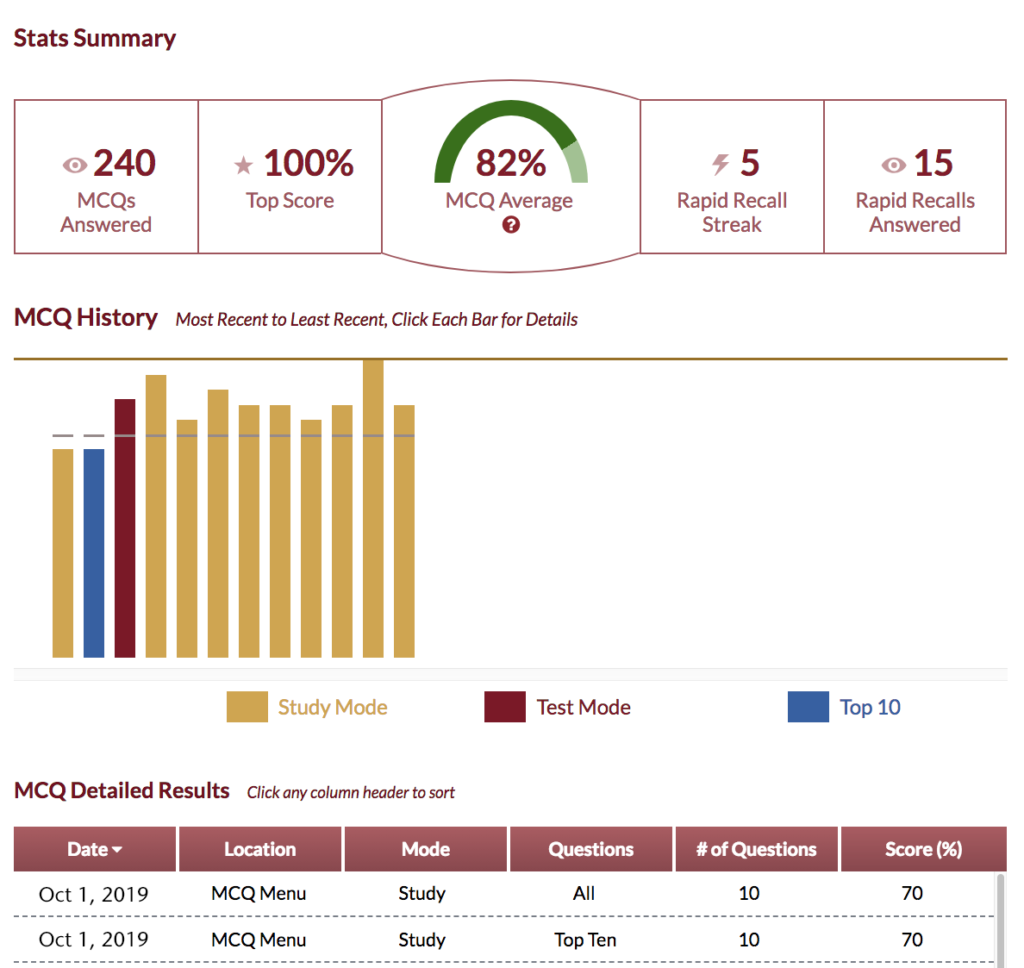 9. Module-Specific Study Options
Tackle MCQs from the specific module (or groups of modules) you're ready for. This helps you focus on specific course content until you're ready to tackle questions from the entire course. Many students use a module-by-module approach: read the module, then tackle question sets specifically for that module in Passit until you're consistently achieving a high score. When you start a study session you'll have the ability to choose what questions to challenge: the entire course or specific module(s).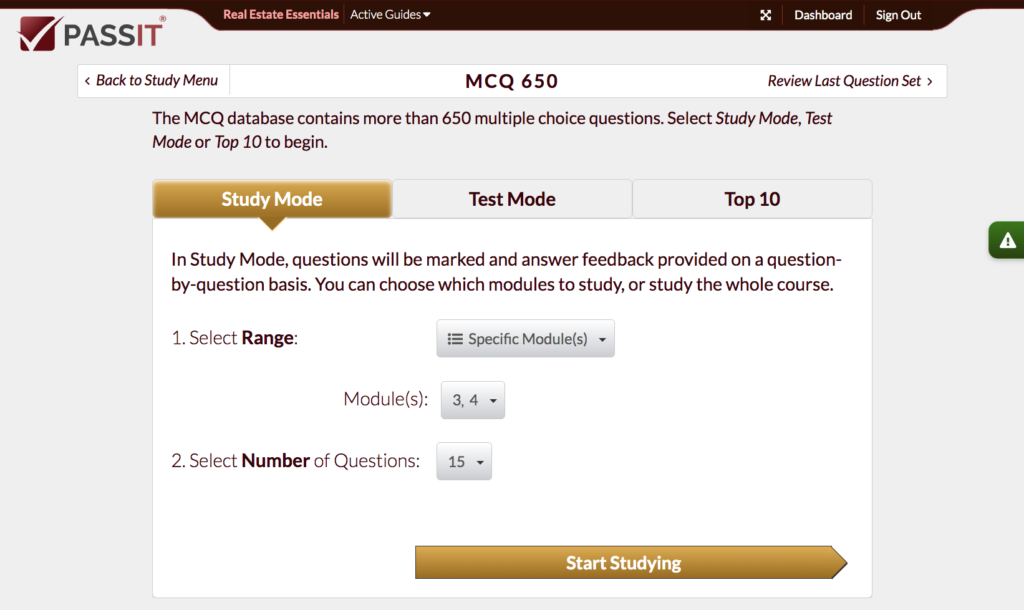 10. Helper Guides
Exam prep is strategic, and sometimes the most helpful info isn't the content, but how to tackle the question. The Humber exam questions can be tricky, and often certain question styles trip students up. These guides help arm you with strategies to tackle any question, so there are no surprises on exam day.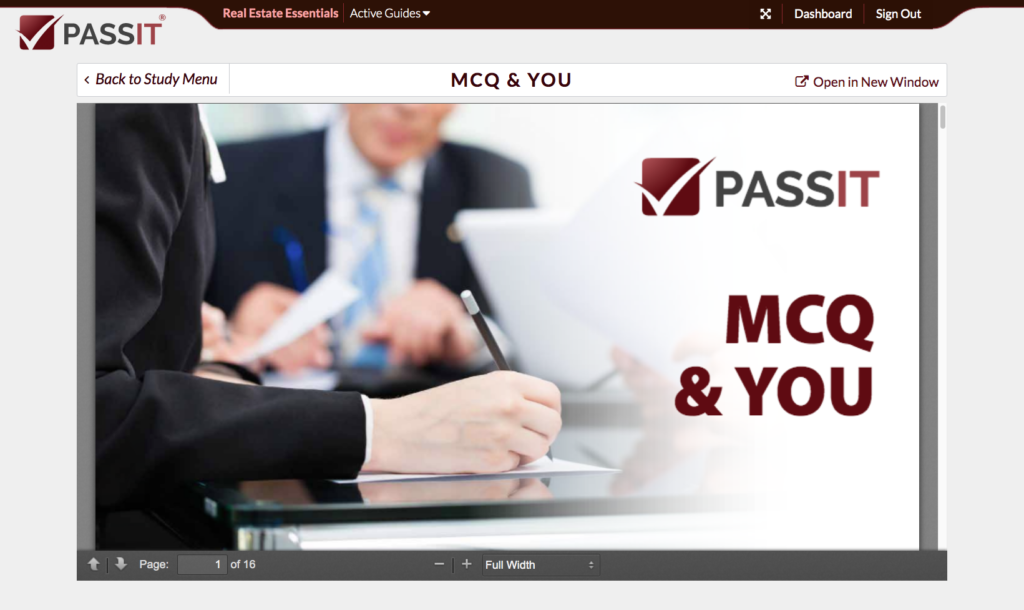 Our overhauled Humber Course 1 Study Guide is even more informative to keep your brain engaged, amplify your learning focus and streamline your study time. Not sure this is right for you? Read what other students had to say.
Access is immediate. This guide includes unlimited use for 6 weeks for $37.99 + HST. This is a one-time fee. Extension options are available if you need more time.